---
TT-Cl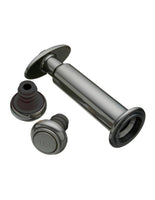 TEST TUBES / CLEAR / 100/BAG (10/CS)
Regular price $7.75
This product is available.
Weinpumpe erfreut jeden, der den heute geöffneten edlen Tropfen auch morgen noch genießen möchte. Im Gegensatz zu einem einfachen Verschluss lässt sich mit dem praktischen Accessoire die Luft aus der Flasche pumpen. Zurück bleibt ein fast perfektes Vakuum, das Ihren Wein schützt, sodass er auch am nächsten Tag noch ein Genuss ist. WMF bietet Weinpumpen in verschiedenen Designs.
Remove air from your wine bottle to keep wine tasting new for up to a week!

Contains 1 Black Wine Saver Vacuum Pump and 2 Grey Vacuum Bottle Stoppers.

Suitable for all Red and White Wines.

Just insert the universal wine stopper into the bottle and pump until you hear the patented "Click". The "Click" signals an air tight seal!