---
GWWR78167 (single)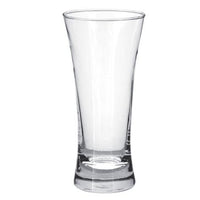 8 OZ BARCONIC PILSNER BEER GLASS (72/CASE)
Regular price $1.07
This product is available.
Looking for a way to serve mid-size beers, or a classy way to serve highballs? Then the BarConic® 8oz Pilsner Glass is a glass you will want in your glassware stock. This 8oz Pilsner Glass features a flared design and thick base, for easier drinking and durability. All BarConic® lines are created with value and quality in mind.
Summary of Highlights and Features
Wide mouth Pilsner Glass
Serves mid-size beers and highball cocktails
Great for both bars and restaurants
Also known as a Flared Pilsner Glass, Tumbler, Grand, and Cooler
Additional Info
Capacity: 8 ounces
Measures 8.89 oz. / 263 ml. when filled up to the rim
Height: 6 inches
Top Diameter: 2.5 inches
Base Diameter: 2 inches
Case Weight: 49.7 lbs
Case Dimensions: 25.5" x 11.5" x 13.5"
Care and Instructions