---
GW-3966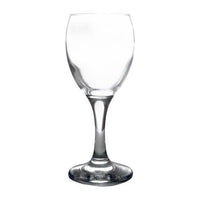 7 OZ BARCONIC TALL WINE GLASS (WHITE WINE) (12/CS)
Regular price $2.28
This product is available.
The BarConic® 7 ounce Tall Wine Glass is perfect for white or red wines due to its exquisite and versatile design. The glass is sturdy and thick for durability and will go well in any bar or restaurant atmosphere. The tall bowl allows the wine room to breathe and the petite 7oz size gives customers a chance to taste any enjoy the many different types of wine you may have to offer.
Features
Tall bowl allows wine to breath
Used for white or red wines
Thick sturdy glass
7.1 ounces to the Rim
Average serving size would be around 5oz
Additional Info
Height: 6.54"
Top Diameter: 2.25"
Bottom Diameter: 2.5"