---
415808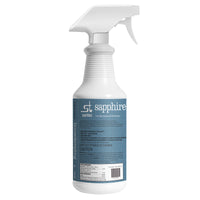 SAPPHIRE / ONE-STEP RTU DISINFECTANT CLEANER / 32 OZ BOTTLE (8/CS)
Regular price $6.88
This product is available.
Sapphire is formulated to be a ready-to-use one step cleaning and disinfecting solution for hard, non-porous, inanimate surfaces such as walls, floors, bathrooms, bathtubs, cabinets and all metal surfaces including railings.
Sapphire's ability to disinfect, deodorize and clean hardsurfaces while at the same time sanitize and deodorizesoft surfaces makes it ideally suited to be a most effectivecleaner for all rooms in healthcare facilities and nursinghomes.
Powerful RTU bactericide – see attached for impressivelist of bacteria and viruses Sapphire is effective against.
Robust cleaner and degreaser yet safe to use on allsurfaces.
Excellent cleaner that leaves behind an upliftinglemony scent.
Standards/Certifications: EPA Registration # 1839-20, 5-Minute Coronavirus Kill Claim
Applications: For Airports, Ambulances, Athletic Facilities, Bathrooms, Correctional Facilities, Daycare Centers, Gyms, Health Clubs, Health Care Facilities, Homes, Hotels, Institutional Kitchens, Laundry Rooms, Nursing Homes, Offices and Schools
Color: Yellow
Container Size: 32 oz
Container Type: Spray Bottle
Coronavirus Effective: Yes
Coronavirus Kill Claim: 5 min
Dilution: RTU
Form: Liquid
Fragrance: Lemon
Item: Disinfectant
Series/Model: Fusion Series
Shelf Life: 1-Year Minimum
Type: One Step
pH Rating: 11.0 - 12.0