---
419046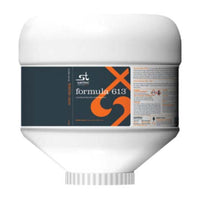 LINDEN FORMULA 613 / POWDERED LAUNDRY STAIN REMOVER / 6 LB CAPSULE (4/CASE)
Regular price $23.45
This product is available.
Formula 613 is a one step stain remover that can be used either to re-claim white linen in the commercial laundry wash wheel or as a pre-soak stain removing activator for difficult-to-remove stains. It'll revitalize your linen and reduce linen replacement costs. When used
at a properly controlled rate, Formula 613 does not reduce tensile strength of common fabrics such as cotton, polyester and blends. Formula 613 is not for use on delicate fabrics such as wool and silk.
Pack Size: 4/6 lb
Form: Granular/Powder
Usage: Concentrate