---
402005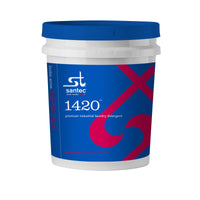 LINDEN 1420 DETERGENT / 5/GAL
Regular price $126.40
This product is available.
1420 Detergent is a powerful liquid detergent composed of surfactants, citrus solvents, and optical brighteners. For use where heavy soils are a common occurance. Excellent for cleaning industrial type soils from uniforms, rags, and res-taurant linen. Provides superior cleaning action.
Effective in many types of industrial and institutional laundries.
Optical brighteners present renew brightness of whites and colored fabrics.
Formulated with a high concentration of hydrophobic solvents and surfactants to be especially effective for removal of oily and greasy soils.
Very effective even at temperatures as low as 120°F.
Equally effective at high levels of water hardness as in soft water.
Color: Clear Red
Container Size: 5 gal
Container Type: Pail
Flash Point: 190° F
Form: Liquid
Item: Laundry Detergent
Scent: Citrusy
Series/Model: 1420
Shelf Life: 1 Year Minimum
Type: Industrial Strength
Viscosity: Slightly viscous
pH Rating: 11.0 – 11.4