---
434PB ACS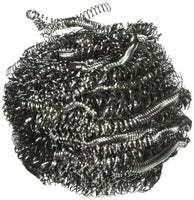 ACS STAINLESS STEEL SPONGE 50 GRAM (12/PACK)
Regular price $7.73
This product is available.
Stainless Steel Scrubber, "400" Series. The product is a stainless steel spiral strongest and most durable available. Stainless steel provides the durability and strength without breaking during use and is easy to wash. Sturdy, yet economical. 
Is ideal for cleaning dishes and pans encrusted with grease and dirt, curlys of stainless steel strip the dirt with minimal effort available. Will not rust or residue.
Weight: 50 grams
Wire Type: SS 400
Color: Silver