---
80409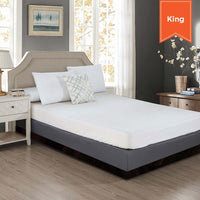 FITTED BOX SPRING WRAP / KING / CHARCOAL GREY / 78 X 80 + 10.50 (EACH)
Regular price $19.85
This product is available.
Hide the unattractive box spring by fitting around the sides with our Box Spring Fitted Wrap. Easy to put on, quick install, and deep enough to cover maximum thicknesses.
This stretchy fabric of Box Spring Wrap is durable, thick, and wrinkle-free.
Deep corner pockets closely fit the mattress, leaving no wrinkles around the bed base wrap,
Deep enough to cover maximum thicknesses of box spring mattress.
Well-stitched hems on all the sides.
Slips easily onto the box spring, covering all four sides.
Lint-free and fade-resistant.
Designed to create a clean look by hiding unsightly box springs.