---
91968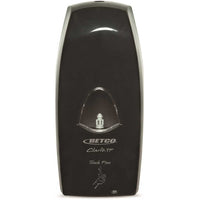 BETCO CLARIO BLACK FOAMING TOUCH FREE DISPENSER
Regular price $5.00
This product is available.
Clario ® Black Touch Free Foam Dispenser
Batteries included - No extra expense at installation.
Excellent foam quality - Superior hand washing experience.
Uses same 1000 ml bag as Clario™ Manual dispensers.
2 Year Warranty - Customer Peace of Mind.
Aesthetically pleasing design complements any facility.
Easy open battery cover - Saves maintenance time.
Tough, durable ABS construction and easy to clean cover.
Product Type: Foam
Product Type: Foam
Shot Size: 0.6 mL
Shot Size: 0.6 ml
Battery Life: 60,000 cycles (6 Cases of Clario Foam Products)
Batteries: 4 C-cell Alkaline Batteries, included