---
GW-WN15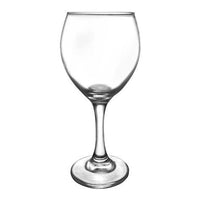 15 OZ BARCONIC ROUND (RED) WINE GLASS
Regular price $2.06
This product is available.
The BarConic® 15oz Wine Glass features a tall round bowl that allows the wine to breathe creating a fuller and deeper flavor profile. They can be used with either white or red wines and come 12 to a case. These glasses are made of durable quality glass with a wide base and strong stem to help prevent any unwanted accidents. Each glass is crystal clear so your guests can enjoy their wine to the fullest! These glasses measure approximately 8 inches tall with a 2.75 inch top diameter and 2.75 inch bottom diameter.
Features
Durable quality glass
Tall round bowl lets wine breath
Used for either white or red wines
Glass is crystal clear for optimal guest appreciation
Additional Info
Height: 8"
Capacity: 12oz
Top Diameter: 2.75"
Bottom Diameter: 2.75"