---
911062-G4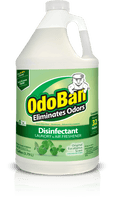 CLEAN CONTROL ODOBAN CONCENTRATED ODOR ELIMIN & DISINF - EUCALYPTUS 1GAL
Regular price $13.50
This product is available.
OdoBan® is our original multi-purpose, concentrated formula. OdoBan® cleans, disinfects, sanitizes, freshens and eliminates odors. Beloved by fans everywhere, this concentrate is economical and versatile. Leaves no residue. One gallon of product makes up to 32 gallons.
Use OdoBan® as:
Cleaner, disinfectant and sanitizer – kills 99.99% of germs in 60 seconds
Fabric and laundry refresher
Odor eliminator
Air freshener
Mopping solution
Mildewstat – controls the growth of mold and mildew
Excellent for fire and flood restoration.