---
32537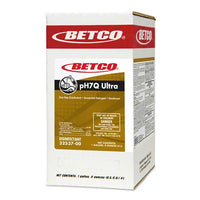 PH7Q ULTRA DISINFECTANT GREEN EARTH® II - 4 L
Regular price $1.47
This product is available.
Recommended for use in hospitals, nursing homes, schools/colleges, commercial and industrial institutions. Neutral pH formula is perfect for damp mopping highly polished floors and will never dull, haze or leave a film. Economical ultra concentrate, 1/2 oz. per gallon (1:256) Provides low end-use cost. Efficacious against Staphylococcus aureus, pseudomona, salmonella, VRE and MRSA.
This concentrated multi-purpose, germicidal detergent and deodorant, disinfects, cleans and deodorizes in one labor-saving step.
Broad spectrum disinfectant.
Leaves no film.
Neutral pH, won't dull, haze or attack finish.