---
13804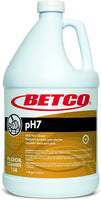 PH7 - LEMON CONCENTRATE 4/1 GL
Regular price $10.62
This product is available.
This mild cleaner will emulsify and suspend dirt and grime from table tops to floors; from spray bottle to autoscrubber.
Controlled foam - Ideal for use in autoscrubbers, mop buckets and pails. Neutral pH - Won't attack, haze, dull floor gloss or leave a film. Dissolves and removes a wide variety of soils, leaving floors film free.
Color Yellow
Density 1.00
Detergency Excellent
Emulsification Excellent
Foaming Moderate
Fragrance Lemon
Rinsability Complete
pH 6.50 - 8.50
Solubility in Water Complete
Wetting Very good