---
208767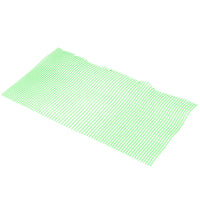 PLASTIC MESH BAR MAT / SHELF LINER / GREEN / 1 FOOT LENGTH
Regular price $1.17
This product is available.
Protect your shelving and glassware with this green plastic mesh shelf liner! A frequently overlooked item, shelf liner can help you save money by eliminating the need to replace delicate glassware because of chipping and wear. Made of green plastic mesh, this shelf liner creates a cushioning layer which provides extra protection for both the shelving and your glassware. Plus, the versatile design allows for use in a variety of other applications! Use it to color-code shelves and stay organized or place it under your cutting boards to prevent slipping. Cutting on a slippery surface can cause hassle or even injury to your employees. However, this item can be easily cut down and slid under your cutting board for a safe and effective way to keep it stationary during prep work, saving both time and frustration.
To aid in faster and more sanitary drying of your glassware, this shelf liner is designed in a breathable mesh, diamond-shaped pattern and creates a barrier between the shelving and glassware which discourages bacteria growth. Thanks to its flexible material, this shelf liner lies flat, but will mold to fit the shape of your surface area. It can also be easily cut to accommodate corners, curves and other obstacles. Perfect for restaurants, bars, and cafes, this shelf liner is an inexpensive addition that can help you save big in the long run!
This product comes on a 40' roll. If you do not need 40' of liner, we sell it by the linear foot as well! However, this product is not returnable unless it is purchased by the entire 40' roll.
Overall Dimensions:
Width: 24"
Maximum Single Piece Length: 40'