---
3381TP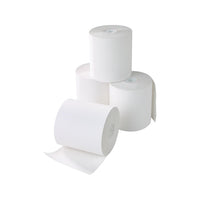 THERMAL REGISTER TAPE / 3.13 X 230' (50/CS)
Regular price $86.93
This product is available.
Our 3 1/8" x 230' Thermal Receipt Paper Rolls (50 pack) are high-quality, BPA-free. 3 1/8" thermal paper rolls are perfect for POS receipt printers, cash registers and credit card terminals at restaurants, retail stores, or any other business you are running.
The 3 1/8" x 230' thermal receipt paper roll is our #1 Best Seller and the most common thermal POS (point-of-sale) printer paper roll size. Thermal paper is made with a special heat-sensitive coating that allows for inkless printing. When heat (from a thermal paper printer) is applied to the coating, the result is a sharp black image without the need for ink or ribbons.
Roll Width: 3 1/8 inches (80mm)
Roll Diameter: 2.85 inches (72mm)
Length: 230 feet (70m)
BPA Free (Contains no Bisphenol A)
Core Size: 7/16" (11mm) ID & 7/8" (22mm) OD
100% Lint Free paper to reduce printer jams
End of paper roll warning stripe
48 gram basis weight / 2.1 mil caliper (thickness)
Compatible Item / Product Numbers: 9078-0565, ZT4823, 3381, 19000DT, 8007, 13040, 140-730, 94223, 1228, 54-230, 318XHI, A7-1242, RPT3.125-STD, 856348, pos-sp80m, NTP-080-80, POS-SP80M, 054034033817, TP3230, 7313sp, 27P8512Q, UNV35763, 856995,S-16161