---
121905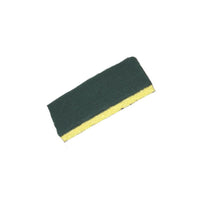 HALF SPONGE / SCRUB/SCOUR YELLOW/GREEN (300/CS)
Regular price $80.02
This product is available.
Sparkling Clean Hotel Dishes
Say goodbye to smelly, bacteria-filled sponges and say Hi to Scouring Pads. These super strong and durable scour pads will help you to keep your hotel dishes and appliances sparkling clean after every use. Simply, these little fellows do all the hard work for you!

Top-Notch Quality
These Scrubber Pads are made from premium quality, resilient synthetic fibers guaranteeing years of continuous use. Also, they never get rust, unravel, fall apart or tear off as cheap and poorly made sponges and scouring pads in the market.

Anti-Grease Technology
Due to anti-grease technology, the scouring pads will stay clean and fresh every time you use it. No more stinky odor, grease and burned on messes. They smell great and feel new every time you use them.