---
1070080104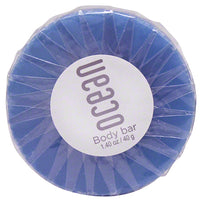 OCEAN COLLECTION / CLEAR PLEAT BLUE ROUND BATH BAR / 40 GR (200/CS)
Regular price $57.39
This product is available.
Its inviting fragrance evokes the wild and vibrant spirit of the ocean. A collection with a personality derived from a unique design and electric color inspired by the mesmerizing blue of the Atlantic.
With natural and organic ingredients, the Ocean collection provides extra hydration, leaving your skin smooth all day long.
This formula was created with great care for skin to feel and look healthy and radiant.
This collection is also perfect for those SEA SIDE accommodations in which you would like to add a touch of pacific paradise to your rooms.
Parabans Free
Colorant Free
Phtalates Free
No Animal Testing