---
102570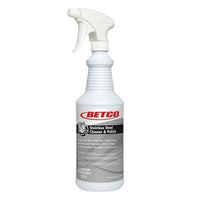 STAINLESS STEEL CLEANER AND POLISH / RTU / 32 OZ BOTTLE (6/CS)
Regular price $4.40
This product is available.
This non-aerosol product is uniquely formulated to remove dirt, grime, fingerprints and water spots on stainless steel surfaces. It's waterbased formula provides a brilliant, streak-free shine.
Streak-free.
Waterbased.
Cleans, polishes, and brightens.
Ideal for all brushed and high gloss metal surfaces.
Won't leave residue buildup which leave fingerprints & promote re-soiling.
Polishes easily without leaving an oily film.
Color: COLORLESS
Dilution: RTU
Fragrance: CITRUS
pH: 7-8
Residue: NONE
Wetting: EXCELLENT